This October, Burnside Hospital has gone pink in celebration of Breast Cancer Awareness Month
20 October 2022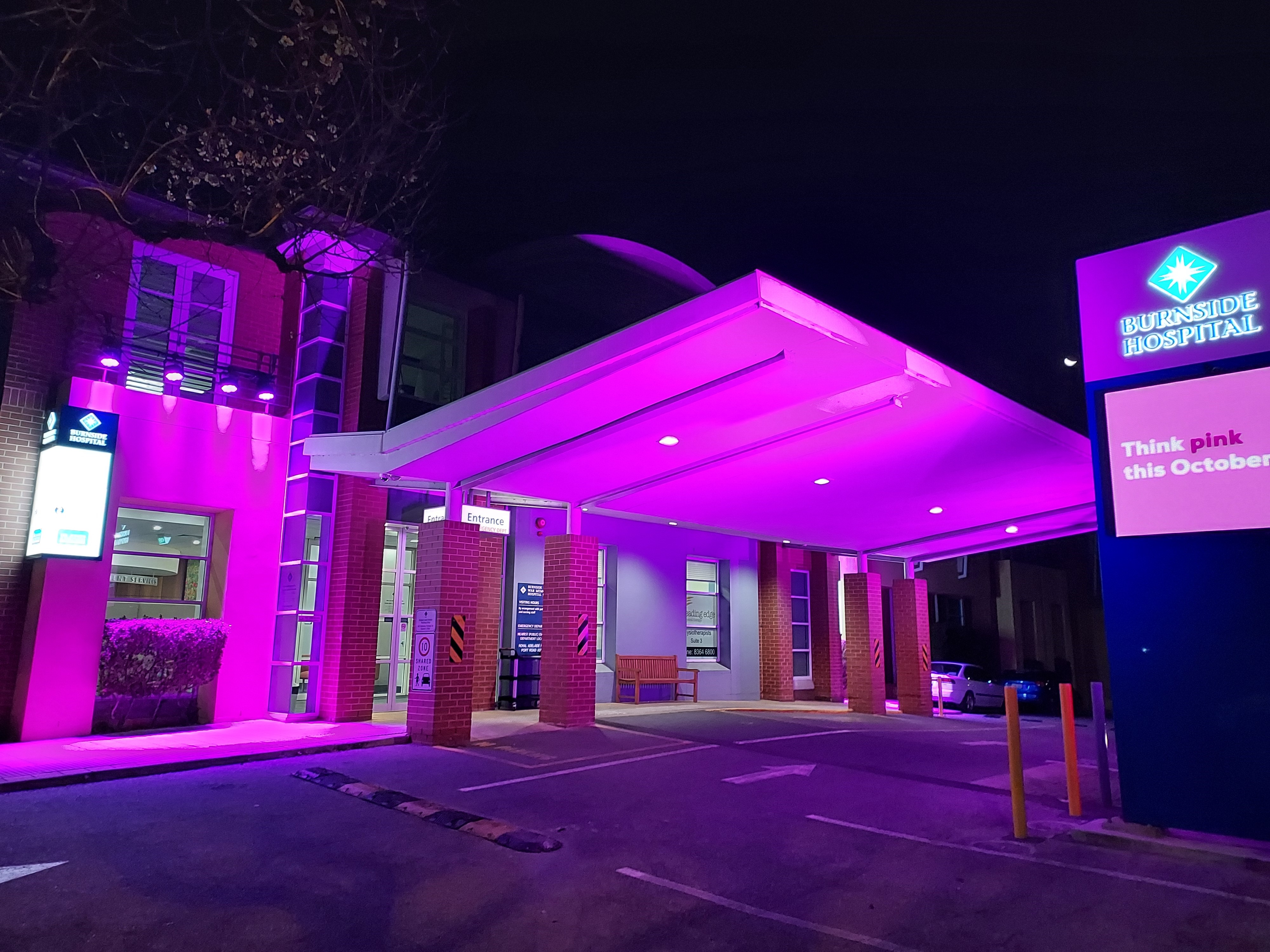 As the second most commonly diagnosed cancer in Australia, approximately 57 Australians are diagnosed with breast cancer every day. That equates to over 20,000 Australians diagnosed each year, with 1 in 7 women diagnosed with breast cancer in their lifetime. However, not only women are affected by this about 1 in 600 men are diagnosed in their lifetime.
In the last 10 years, breast cancer diagnoses have increased by 33%. Thanks to the work of the National Breast Cancer Foundation (NBCF) since 1984, the five-year survival rates have improved from 76% to 92%.
Burnside Hospital's Breast and Endocrine Centre provides a comprehensive diagnostic, treatment and support service for women and men with breast problems, including cancer.
Our multi-disciplinary team of Medical Oncologists, Radio-oncologists, Pathologists, Radiologists, Reconstructive Surgeons, Breast Surgeons, Geneticists, Breast Care Nurses and Researchers collaborate to develop a treatment plan unique to the specific needs of each patient.
Our services include urgent appointments for breast cancer or suspicion of cancer, on-site radiology using state-of-the-art digital mammography/tomosynthesis, vacuum assisted biopsy availability, same day results (unless additional complex testing is required), breast and endocrine surgery, oncoplastics, general surgery, and ultrasound for diagnostic and minor procedures.
To raise awareness of this important cause, and to celebrate all our superheroes who are living with breast cancer, as well as remembering those who have lost their battle, Burnside Hospital will light the exterior of the hospital pink for the remainder of the month.
Lights will be on each night from sunset until 12am and will end on 31 October.