Burnside Hospital provides safe and contemporary care for every patient - supported by the generosity of our Foundation donors.
Supporters of the Burnside Hospital Foundation recieve bi-yearly newsletters with updates from the Hospital and stories showing the impact of their support.
Every gift makes a difference and we are grateful for your contributions.
Better Beds at Burnside
11 March 2022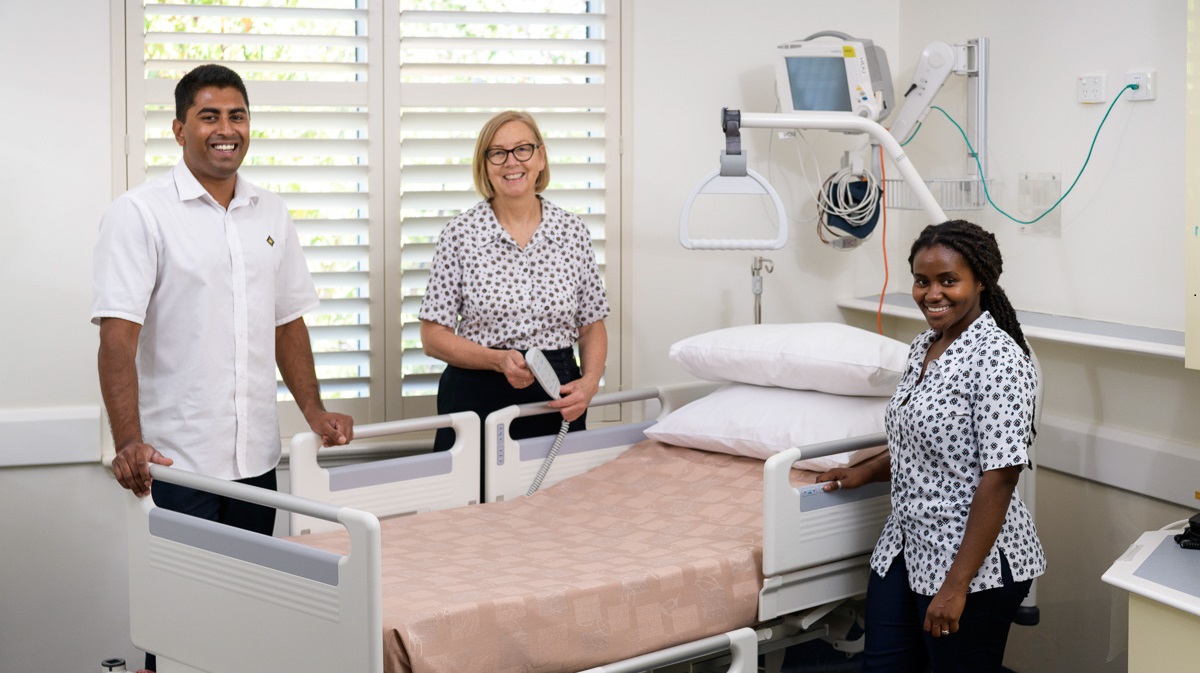 Burnside Hospital was one of the first private hospitals to purchase electric beds, which have served us well for many years.
Now, following patient feedback and a reduction in availability of parts for repair, we have started the process of replacing every bed. They are all being upgraded to the Howard Wright M10 Beds, with features for improved comfort, safety and useability.
"From a patient's perspective, the new beds are really good, really safe. The controls are easy for patients to use and the light under the bed makes it safer to move around at night. It's really exciting to have the beds," says Loreen Bykow, Enrolled Nurse Ward Clerk.
In addition to the increased patient comfort and independence, the new beds are also safer and easier for staff to work with.
"There is a lot of manual handling in our jobs," says Karen Minshall, Registered Nurse and Work Health and Safety Coordinator. "The new beds make it much easier to transition patients in and out, and they are easier to move around. The split cot sides allow for better manoeuvring, minimising the strain on nurses and reducing risk and injuries."
Each bed costs $4,705 to replace, and while 15 have been purchased already there are still 55 to replace. If you would like to contribute towards a more comfortable hospital stay for our patients, please contact Alexandra Bassett, Foundation Manager on 08 8202 7248 or foundation@burnsidehospital.asn.au.
Pictured above: (L-R) Avinash Kannan (Registerd Nurse), Carolyn Witt (Clinical Nurse Coordinator), Charlene Kalei (Registered Nurse).
A Sweet Partnership
10 March 2022
The Haigh Family, of Haigh's Chocolates, have been supporters of Burnside Hospital for over 20 years.
In addition to providing generous sponsorship of events, Simon, Alister and John Haigh are also members of the Otto von Rieben Giving Circle, which honours the legacy of our founding benefactor by continuing a strong tradition of philanthropy at the Hospital.
Simon Haigh has also been a longstanding member of the Burnside Hospital Foundation Committee (and previously the Burnside Hospital Foundation Inc. Board) since 2013. In 2021, he was appointed to the position of Deputy Chair, in recognition of his contributions and commitment to the work of the Foundation.
"I have enjoyed being part of the Foundation Committee and contributing to the good work at Burnside Hospital. Supporting the changing needs of the hospital over many years has been rewarding and I look forward to our ongoing partnership," says Simon.
The Board of Directors, Foundation Committee and staff at Burnside Hospital are grateful for the significant support of the Haigh Family over so many years.
Pictured above: (L-R) Simon Haigh (Foundation Committee Deputy Chair) and Rod Buchecker (Foundation Committee Chair).