Burnside Hospital provides safe and contemporary care for every patient - supported by the generosity of our Foundation donors.
Supporters of the Burnside Hospital Foundation receive bi-annual newsletters with updates from the Hospital and stories showing the impact of their support.
Every gift makes a difference and we are grateful for your contributions.
A Lucky Save for the Barbed Wire Man
29 November 2022
Lyndon Eason credits Burnside Hospital with saving his leg.
After an accident involving a barbed wire fence on his farm near Penola, Lyndon was flown from Mount Gambier to Burnside Hospital by the Royal Flying Doctor Service.
"I arrived about 4pm and was taken straight to surgery, getting out around midnight. I had a severe laceration to my leg just below the knee which severed an artery, nerves, tendons and muscle. The team definitely had a job ahead of them putting me back together," said Lyndon.
Fortunately, Lyndon's leg survived the surgery and he earned the nickname 'The Barbed Wire Man' from staff who enjoyed his easy-going company and positive attitude through his long recovery at the hospital.
"From the minute I entered, I had exceptional care from the doctors, nurses, administration, catering staff, physios and volunteers. I have no doubt that I still have my leg because of the high quality care I received," said Lyndon.
They still had a farm to run and Lyndon's wife Ann-Maree felt secure leaving Lyndon for periods to go home and take care of the business. This year, Lyndon and his wife Ann-Maree chose to donate the proceeds of the sale of one of their livestock to the Burnside Hospital Foundation.
"I have been to sales before where people sell animals to donate to organisations, and I knew that was what I wanted to do too. I always wanted to do something for the hospital to show my appreciation."
"I can't speak highly enough of Burnside Hospital and I tell everyone I know to go there if they can. It is hard to put into words the appreciation I have – I will never forget the care I was given."

Pictured above: Lyndon Eason with the cow for sale.
Living to Beat Cancer
28 November 2022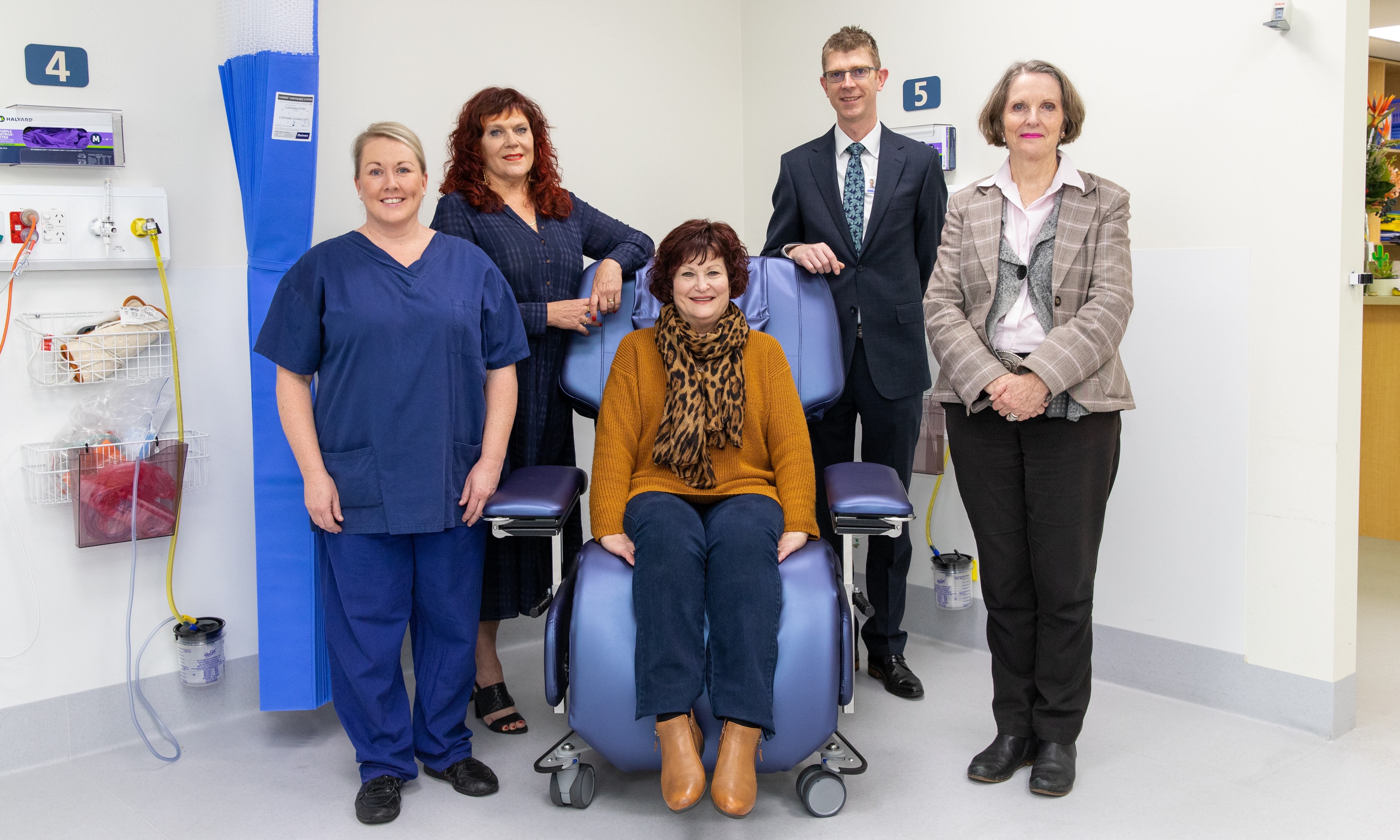 Kerry Woolston and Cindy Najar fundraise in the Riverland under the name Living to Beat Cancer.
Formed in 2001 after Kerry lost both her parents to cancer and Cindy lost her father, Living to Beat Cancer has raised over $350,000 for cancer research and treatment.
"We wanted to make a difference for future cancer patients and their families. With support from the local region we've held many events including fundraising dinners, auctions, live bands, and worked with local clubs and businesses," said Kerry.
"When I was diagnosed with breast cancer myself in 2018, I was very lucky to be referred to Dr Stephen Birrell and Dr Nick Murray at Burnside Hospital. As challenging as the 'cold cap' and chemotherapy were, the Burnside Hospital staff were always wonderful and made me feel safe and comfortable during this very difficult time."
Most of the treatment chairs used for chemotherapy patients had been upgraded to newer models in recent years, however there was still one left to replace.
"When I noticed there was still one old black chair, I phoned my dear friend Cindy and asked if she would like to donate a new chair with me using our personal funds. She agreed immediately and we are so happy to make other patients more comfortable."
"I'm very grateful for the support of the oncology staff, they provided great care through my months of treatment and we're pleased to give something back."
Pictured above: (L-R) Alison Stangewitz (Clinical Nurse), Cindy Najar, Kerry Woolston, Alan Morrison (CEO), Jane Marsh (Clinical Manager, Brian Fricker Oncology Centre & Breast and Endocrine Centre).
Meet the Team - Franka Calabrese
27 November 2022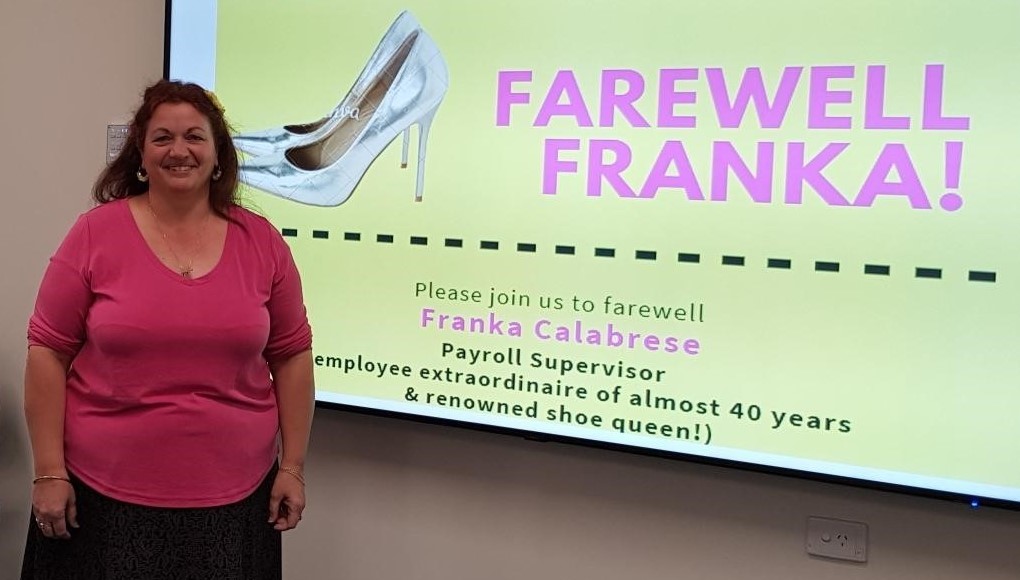 Franka Calabrese, former Payroll Supervisor, has departed Burnside Hospital after one of the longest tenures in the organisation's history.
How long did you work at Burnside Hospital?
39 years and 8 months.
What did you enjoy most about your time there?
I appreciated the opportunity to move from the kitchen to Payroll and learn a new skill. I also liked getting to know the nursing staff better when I worked as a ward clerk and receptionist in Lung Function and Diabetes.
Organising the Christmas dinners and other social functions was a highlight too, and most importantly the friends I made and the ability to help employees in any way that I could.
What were the biggest changes during your time at Burnside Hospital?
The new operating suites were refurbished and moved upstairs, and Maternity and the new Von Rieben North wing were upgraded. But the main change I saw was in the interaction of staff, from hospital and nursing through to management, once we starting having one hospital Christmas function. There was no separation between areas and the fun had by all was infectious.

Pictured above: Franka Calabrese on her last day at Burnside Hospital.
Specialty Care
28 October 2022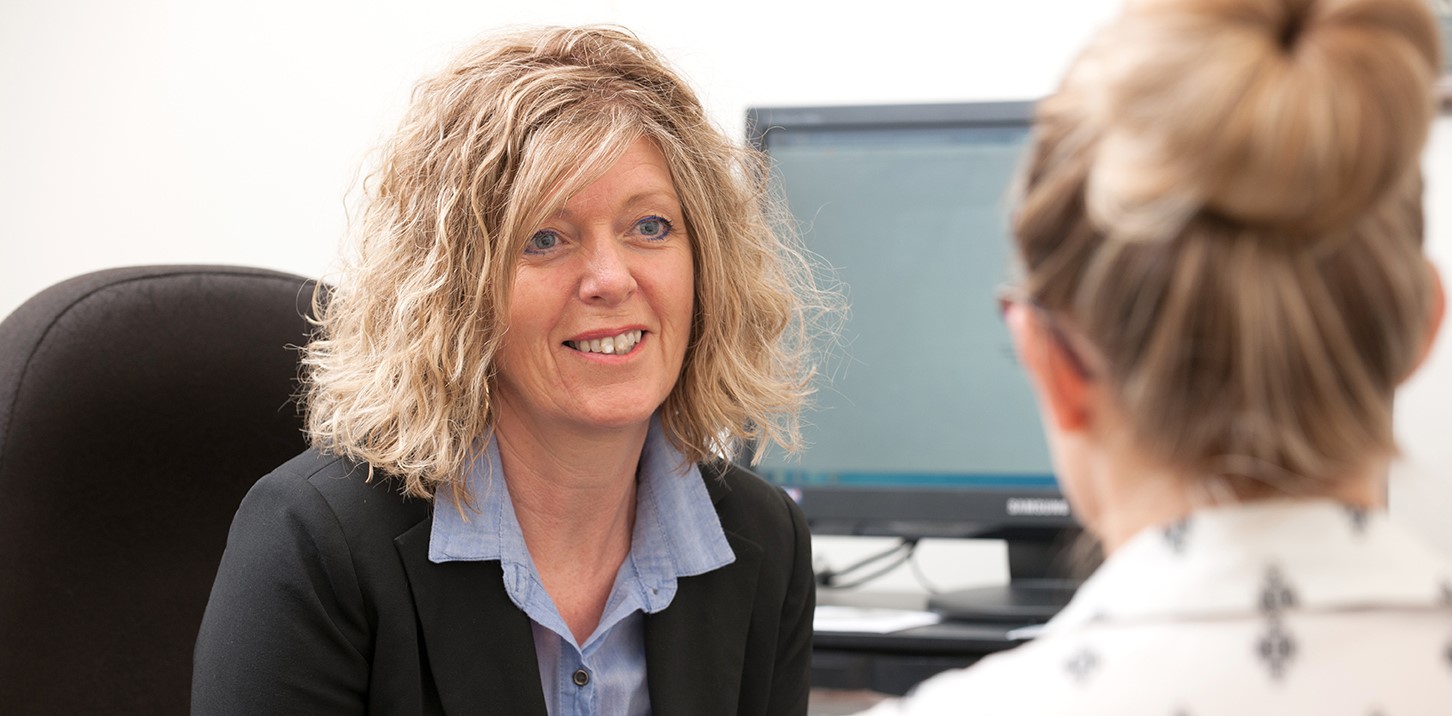 Admissions are increasing in the Brian Fricker Oncology Centre and unfortunately, there is more demand for services at The Breast and Endocrine Centre at Burnside Hospital as well.
Thanks to the generous, ongoing support of a donor, since 2016 Burnside Hospital has been able to have a second dedicated part time Breast Nurse position to assist with meeting the needs of the increasing number of breast cancer patients.
The Breast Cancer Nurses triage the clinical caseload in the centre, work closely with patients on their medical needs such as wound care, and provide support through counselling, fitting for post-mastectomy bras, managing hospital visits, and providing pre- and post-operative education.
"From day one the Breast Care nurses have been amazing, so understanding and knowledgeable. They are a shining light in an experience most of us don't expect to have to go through. I cannot give enough praise and high recommendation for the staff at Burnside Hospital" – Simone Bell, patient
Ongoing funding provides greater stability for our patients' needs and eases pressure on our staff. While the donors have chosen to remain anonymous for this gift, we acknowledge their significant support and assistance in this area.

Pictured above: Chris Mundy, Registered Nurse CHE and Breast Care Nurse.
Giving Thanks by Giving Back
28 October 2022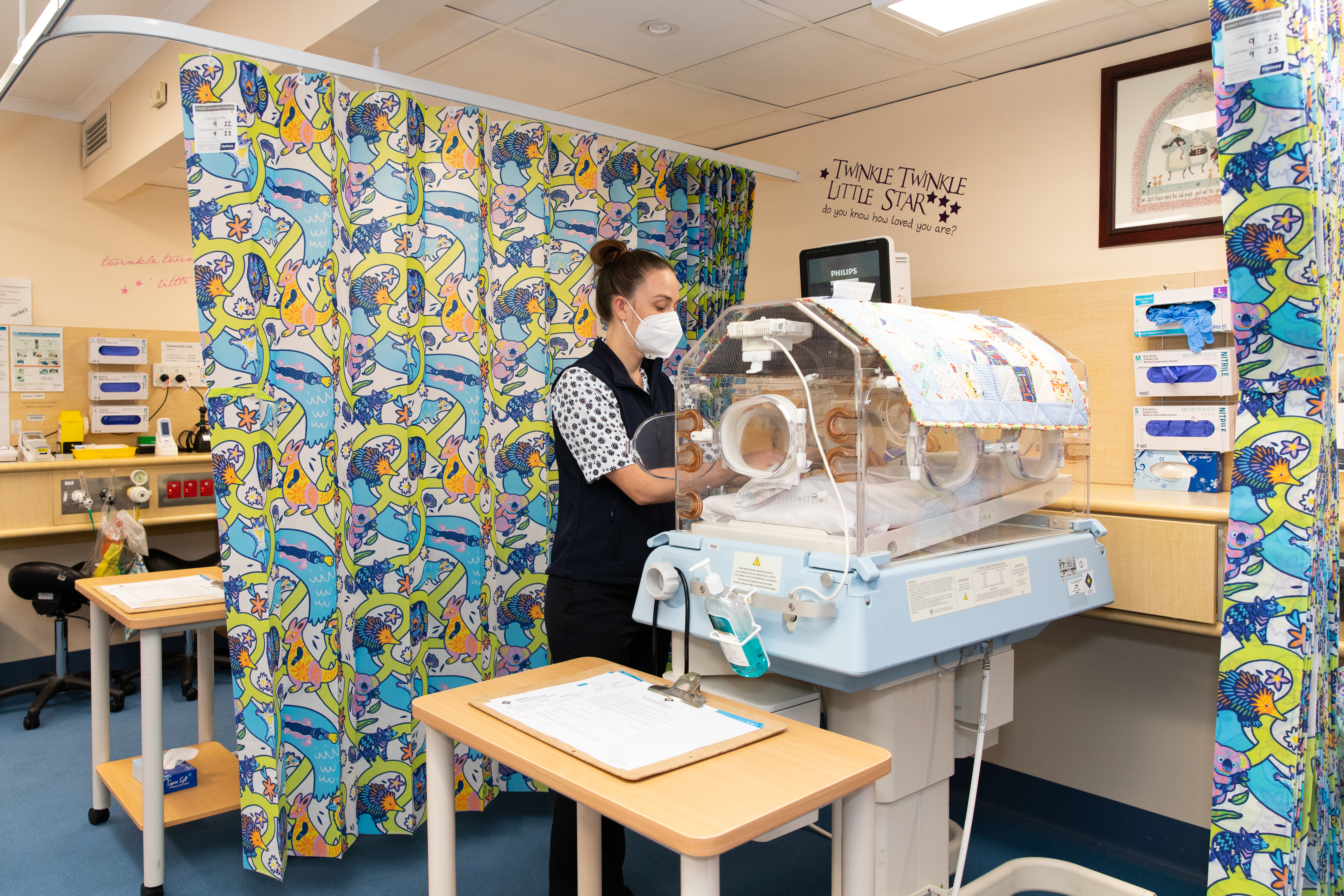 Lisa and Mark Charlesworth have donated several new items to the hospital through the Burnside Hospital Foundation.
"When I received a cancer diagnosis it was a great shock," said Lisa. "From the start, the friendly and professional staff have helped make a very tough time much better. I'm so grateful for the care I've received, and we're happy to contribute back and make a difference for other patients."
In 2021 Lisa and Mark purchased a new oncology treatment chair for the centre, and in 2022 they gifted a new blanket warmer, which provides additional comfort to patients through long treatment hours.
Lisa and Mark have also gifted curtains for the Maternity Unit's Special Care Nursery, to give privacy for new mother's feeding their children.
"We have a great niece who had special needs as a newborn so this is another issue close to our hearts," said Mark.
"The curtains are a wonderful addition to our Special Care Nursery," said Kim Parker-Gray, Clinical Manager – Maternity Services. "They give privacy to new parents during an often challenging time. We are grateful for Lisa and Mark's generosity which will be appreciated by patients for many years to come."
Better Beds at Burnside
11 March 2022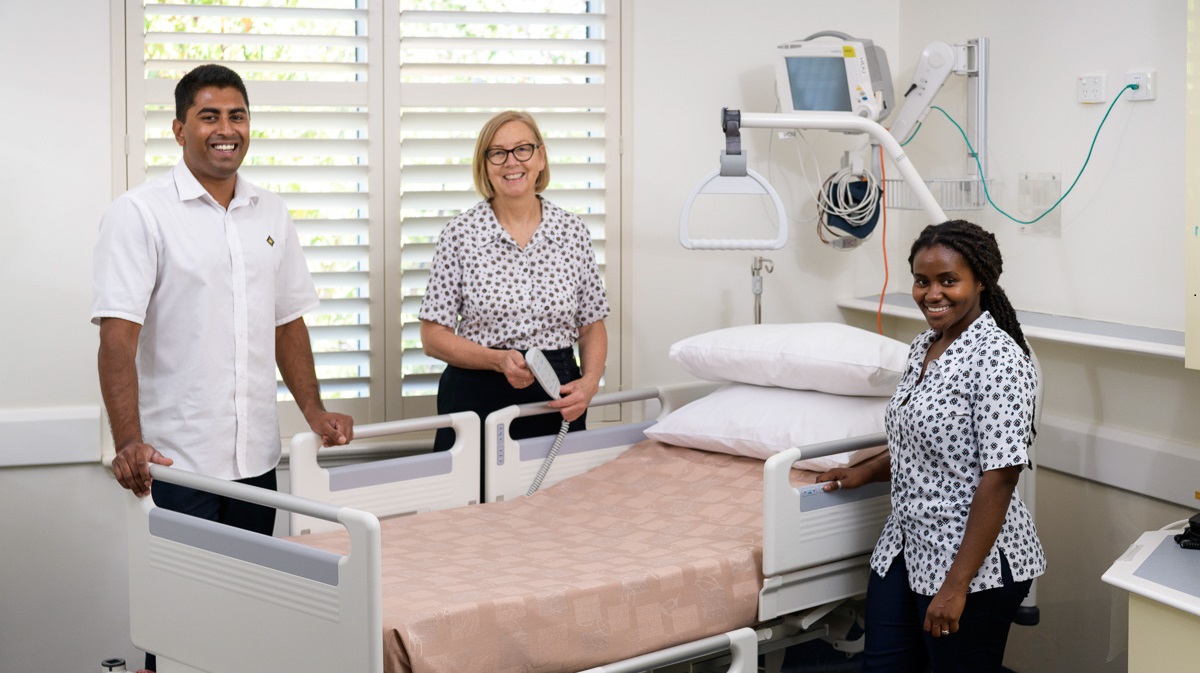 Burnside Hospital was one of the first private hospitals to purchase electric beds, which have served us well for many years.
Now, following patient feedback and a reduction in availability of parts for repair, we have started the process of replacing every bed. They are all being upgraded to the Howard Wright M10 Beds, with features for improved comfort, safety and useability.
"From a patient's perspective, the new beds are really good, really safe. The controls are easy for patients to use and the light under the bed makes it safer to move around at night. It's really exciting to have the beds," says Loreen Bykow, Enrolled Nurse Ward Clerk.
In addition to the increased patient comfort and independence, the new beds are also safer and easier for staff to work with.
"There is a lot of manual handling in our jobs," says Karen Minshall, Registered Nurse and Health and Safety Representative. "The new beds make it much easier to transition patients in and out, and they are easier to move around. The split cot sides allow for better manoeuvring, minimising the strain on nurses and reducing risk and injuries."
Each bed costs $4,705 to replace, and while 15 have been purchased already there are still 55 to replace. If you would like to contribute towards a more comfortable hospital stay for our patients, please contact Alexandra Bassett, Foundation Manager on 08 8202 7248 or foundation@burnsidehospital.asn.au.
Pictured above: (L-R) Avinash Kannan (Registered Nurse), Carolyn Witt (Clinical Nurse Coordinator), Charlene Kalei (Registered Nurse).
A Sweet Partnership
10 March 2022
The Haigh Family, of Haigh's Chocolates, have been supporters of Burnside Hospital for over 20 years.
In addition to providing generous sponsorship of events, Simon, Alister and John Haigh are also members of the Otto von Rieben Giving Circle, which honours the legacy of our founding benefactor by continuing a strong tradition of philanthropy at the Hospital.
Simon Haigh has also been a longstanding member of the Burnside Hospital Foundation Committee (and previously the Burnside Hospital Foundation Inc. Board) since 2013. In 2021, he was appointed to the position of Deputy Chair, in recognition of his contributions and commitment to the work of the Foundation.
"I have enjoyed being part of the Foundation Committee and contributing to the good work at Burnside Hospital. Supporting the changing needs of the hospital over many years has been rewarding and I look forward to our ongoing partnership," says Simon.
The Board of Directors, Foundation Committee and staff at Burnside Hospital are grateful for the significant support of the Haigh Family over so many years.
Pictured above: (L-R) Simon Haigh (Foundation Committee Deputy Chair) and Rod Buchecker (Foundation Committee Chair).