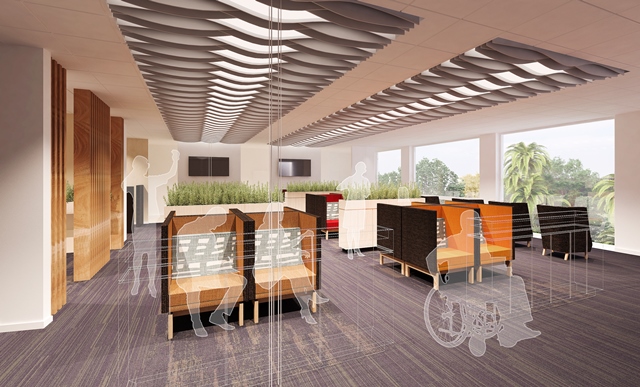 After months of meticulous planning, consultation and engagement with its community, Burnside Hospital is thrilled to announce that works on the highly anticipated redevelopment of its Short Stay Procedure Unit (SSPU) or day surgery have commenced.
In July, Chief Executive Officer Heather Messenger confirmed local building firm Mossop Construction & Interiors has been appointed to upgrade and expand the day surgery facilities at the hospital, following application approval from the City of Burnside and SA Health.
"We are thrilled that our vision to offer a leading edge day surgery environment for the South Australian community is even closer to reality with the appointment of renowned local building group, Mossop Pty Ltd, and the beginning of construction of this important redevelopment," Ms Messenger said.
"This is an exciting project that will enable the hospital to provide premier pre and post operative day surgery facilities to more patients, and an improved working environment for staff and our visiting specialists. It will be the largest redevelopment at the hospital since a significant redevelopment in 2002," said Ms Messenger.
The new day surgery environment will provide:
A large pre-operative waiting area, providing improved patient privacy and comfort
A larger contemporary post operative environment in the patient recovery area
Four pre-anaesthetic consulting rooms located within the suite
A post operative consulting room enabling private conversations to be held with patients
The ability to better meet the special health needs of patients
Wireless technology (wifi) enabling patients to use their smart devices or laptops while waiting for surgery
In short, an improved ambience in a spacious waiting area, with natural light and views over heritage-listed Attunga Gardens that meets the needs and expectations of privately insured patients now and into the future.
In welcoming the announcement, Burnside Hospital's Chairman Mr Frank Kite said investment in the day surgery benefits the community served by the hospital.
"Burnside Hospital is a not for profit community hospital which reinvests surplus funds into essential infrastructure, facilities, services and staff. This redevelopment is a strategic investment in built facilities and complements recent significant acquisitions of leading edge operating theatre technologies demonstrating our commitment to sustainably serve current and future generations of the Burnside and broader South Australian communities," said Mr Kite.
The hospital developed the new concept plan for its day surgery, which performs around 4000 day procedures annually, in collaboration with Cheesman Architects in 2015. Significant effort went into consultation and plans were updated to reflect much of the feedback received from patients, staff and doctors.
Work on Stage I of the project commenced in July 2016, with completion due early in the new year. It is 'business as usual' in the day surgery, with careful planning and the use of staging and some afterhours work to ensure we can continue to deliver the high level of service the hospital is renowned for during construction.