Burnside Hospital has been awarded another four years accreditation certification following a survey by Australian Council on Healthcare Standards (ACHS), a leading independent authority on health care. The hospital has held continuous ACHS accreditation since 1985 and the most recent survey shows all 15 standards have again been met and that four of the governance standards were 'met with merit'.
The ACHS is an independent organisation, dedicated to improving the quality of healthcare in Australia through continual review of performance, assessment and accreditation, with a specific focus on safety, quality and performance since 1974. Burnside Hospital has been surveyed by the organisation every four years since 1985.
Three visiting accreditors from the ACHS surveyed the community not for profit hospital over three days in June 2018, evaluating performance, procedures and activity against the 15 EquipNational Safety and Quality Health Service Standards.
The lead surveyor commenced the summation conference by saying:
'How lucky are you, the staff of Burnside & how fortunate are the consumers of Burnside Hospital's services to be here? It is evident through our meeting with you all & staff throughout the hospital that safety & quality is embedded throughout the organisation, it is endemic & part of your very fibre.'
She went on to say that, in 10 years of surveying she has never commenced a summation conference in that manner. All surveyors agreed that they would be extremely happy to be a patient at Burnside Hospital.
Some of the key findings of the accreditation team include:
Quality and safety are worn as a 'badge of honour' by all staff
Facilities are hotel standard
The hospital is adapting to changing consumers
The clinical handover process is a highlight
Clinical practice is well-articulated with active engagement of patients
Every area is clean and well-organised
Patient safety in identifying and mitigating risks is evident in every instance
Housekeeping are actively engaged in mitigating infection risk
Patients are provided with excellent information about their medications
Structured patient/procedure matching protocols reflect the hospital-wide approach to patient identification
A systematic approach is taken to the prevention and management of pressure injuries
Visiting medical specialists were complimentary regarding nursing staff responsiveness to patient's clinical deterioration
A strong multidisciplinary approach to falls prevention is evident
Language, nutritional, spiritual and cultural needs are examined and provided for
The quality of food was high including meals from the patient menu
Labour allocation allows for optimum nursing care
Very comprehensive coding management supports medical reporting
Increasing resource allocation for technology and information safety is proactive rather than reactive
'The team at the Burnside Hospital are very proud of our tradition of care for generations of our community and we are tirelessly committed to providing safe, contemporary care both now and into the future. We recognise that improvement is a never-ending task rather than being about receiving periodic certification, however our wider team's focus on meeting changing consumer expectations and providing excellence in patient care has served us well again.'

Heather Messenger, CEO of the Burnside Hospital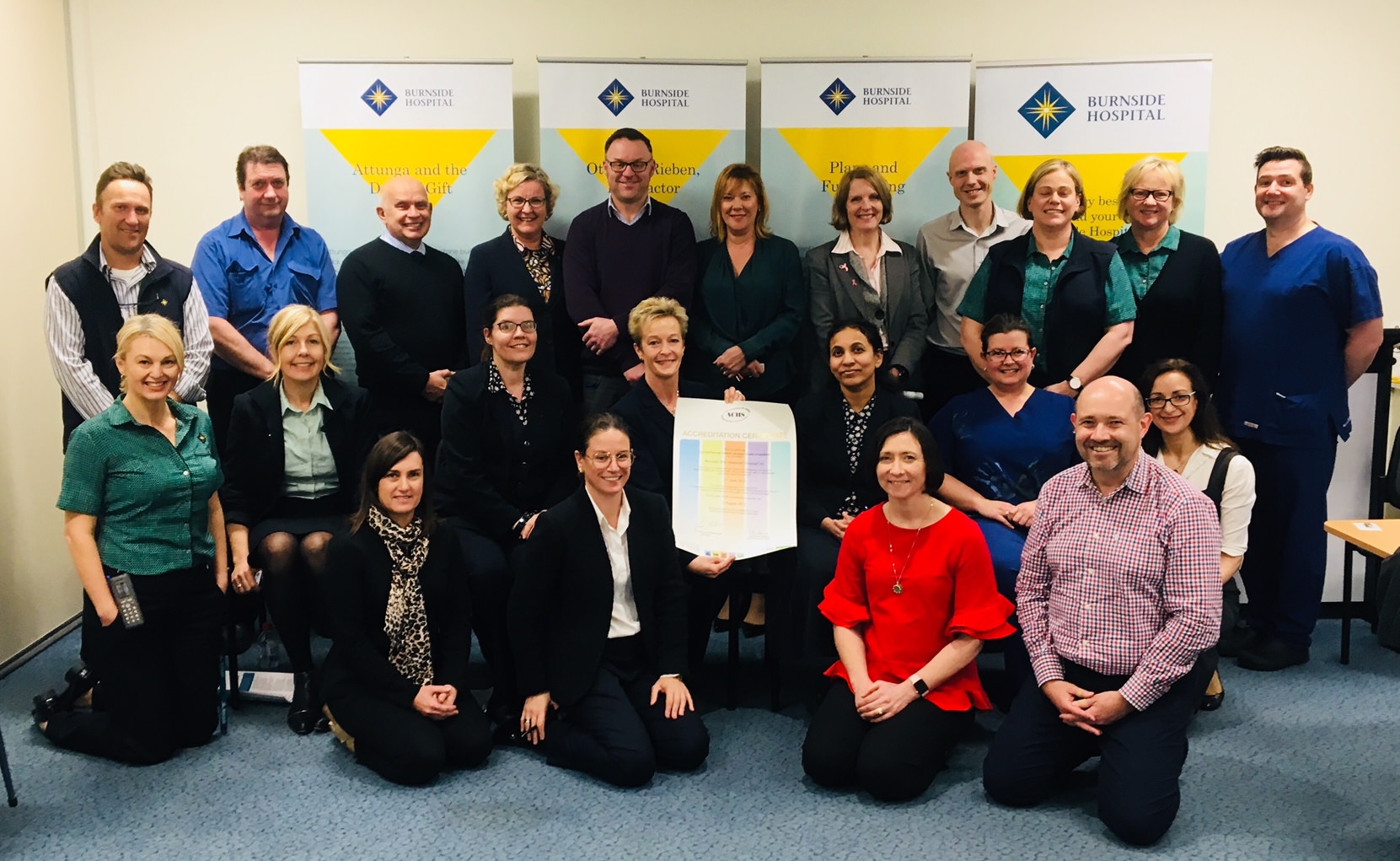 The Burnside Hospital Management Team celebrate the ongoing accreditation achievement
About the Australian Council of Healthcare Standards accreditation program:
EQuIPNational is a four-year accreditation program for health services that will ensure a continuing focus on quality across the whole organisation, for organisations required to be accredited to the NSQHS Standards.It has been developed in response to the Australian Commission on Safety and Quality in Health Care's (ACSQHC's) National Safety and Quality Health Service (NSQHS) Standards ('National Standards') which are mandatory for health services from 1 January 2013.
EQuIPNational ensures organisations meet the necessary requirements to meet the NSQHS Standards, and offers a further five standards that focus on the performance of non-clinical systems as part of a comprehensive organisation-wide assessment - the essential areas of service delivery, provision of care, workforce management, information management and corporate governance and safety.
Please click to view all 15 standards met by Burnside Hospital: https://www.achs.org.au/media/38984/table_equipnational_standards.pdf