With the help of many generous and caring local people and businesses, The Burnside Hospital Foundation has provided significant support for the hospital since it began fundraising more than 16 years ago.
Our major projects have included:
2016 to 2017 - with increasing demand for oncology services, the hospital embarked on a plan to redevelop the Brian Fricker Oncology Centre in 2016. The works commenced in late 2016 which resulted in a $300,000 refurbishment of the area. Part of the oncology space was stripped; the two medical specialists consulting rooms were relocated allowing for an open plan area to incorporate all 9 treatment chairs in one space. The refurbishment resulted in a brand new contemporary area with patients having more space between treatment chairs and an open plan light and bright room vastly improving patient comfort and staff safety.
Nine brand new hi-lo recliner chairs were purchased by the Foundation. These chairs provide additional comfort for patients. More importantly their additional functionality to recline at an instant improves the management of patient's who may experience hypersensitivity and reactions to treatments. The chairs provide an added benefit for staff of not having to bend over when cannulating or attending to patients in need, reducing their risk of strain or injury.
With the number of patients visiting the Oncology Centre growing from 30 per month in 2005 to 180 per month in 2016, these improvements are providing additional patient comfort safety and care.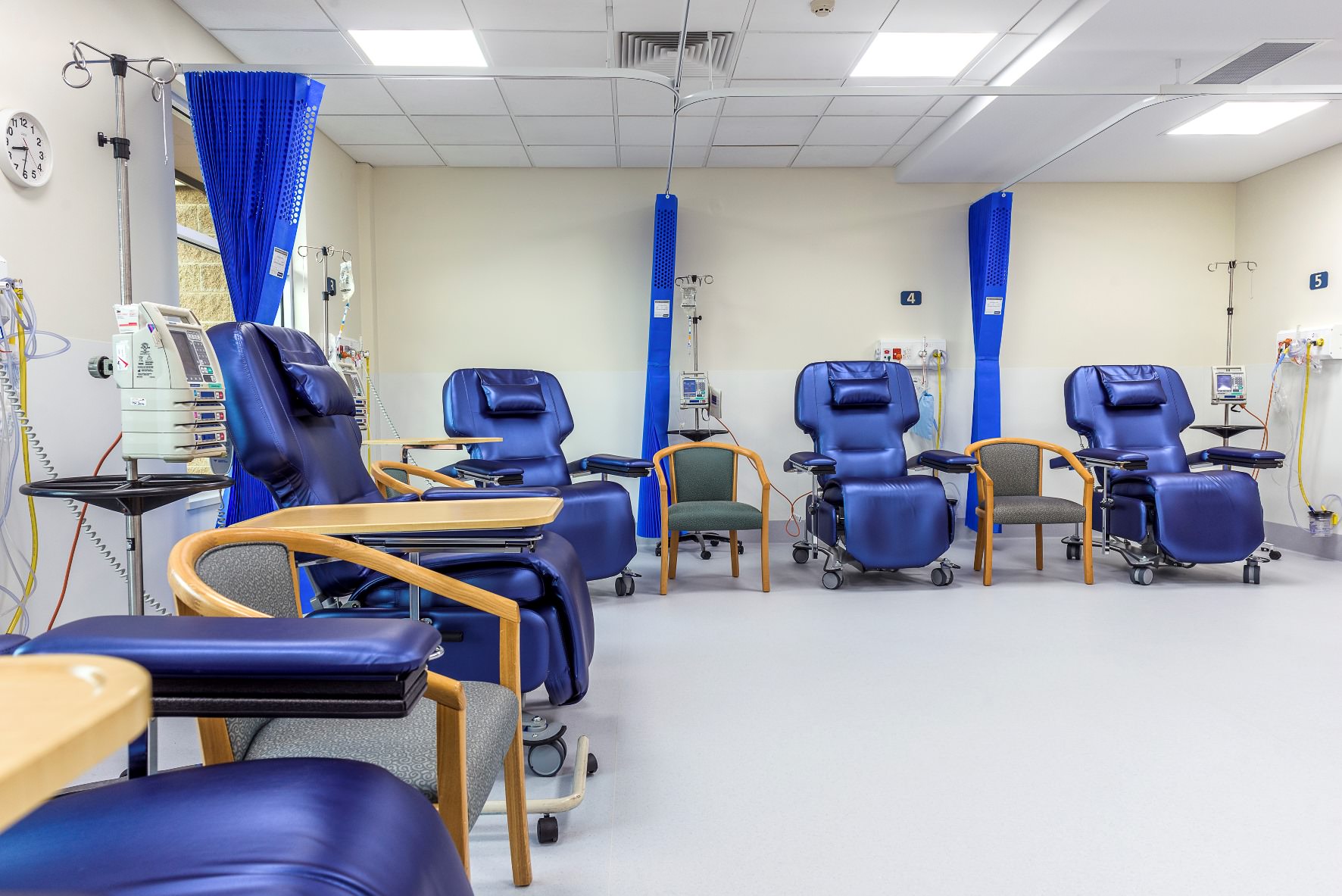 In May 2017, the Foundation donated 8 new specialty recliners for the Short Stay Procedure Unit (Day Surgery) at a cost of $6,000 each: this was part of the Hospita's major redevelopment of the patient waiting areas for Day Surgery, including the post-procedure (recovery) area. The new recliners - which are quite different to a standard lounge seat! - can be reclined almost to a bed. They meet high level infection control standards; they can be easily moved or relocated if needed; and they will offer better comfort, privacy and an improved patient experience.
In February 2016, our Foundation donated $35,000 to the hospital towards the costs of installing a new theatre camera system to be used across all five of its operating theatres.
2015 – our Lights, Cameras, Action Campaign aimed to help the hospital by donating funds towards the costs of a new integrated camera system for the operating theatres. A donation of $35,000 was given to the hospital for this purpose in February 2016.
2014 – our Shine A Light Campaign raised $50,000 to help the hospital fund new brilliant, high-efficiency LED theatre lights for its five operating theatres. The new lights, now installed in all theatres, provide improved clarity and definition so that surgeons have the best possible view of the surgical site. They're also around 85% less expensive to run, so the hospital has been able to save on its energy bills.
2013 – raising $75,000 for a new high capacity multi function operating theatre table for the hospital. Events held to support our Operation: Table campaign included movie screenings of "The Great Gatsby" in June, and "Diana" in October; and a Business Leaders' Lunch at Chloe's Restaurant in November 2013. Our Foundation donated $75,000 to the hospital in March 2014 for the new table; now in regular use, it is particularly valued by orthopaedic surgeons for its flexibility.
2012 – raising $50,000 for a new Image Intensifier for the hospital's operating theatres. This specialised type of X-Ray uses low doses of radiation to provide very accurate images, and is used by surgeons during procedures to ensure the best possible outcomes for patients. The Foundation donated $50,000 towards the new Image Intensifier in February 2013; it is now in use in the operating theatres.
The continuing success of the Burnside Hospital Foundation plays a vital role in the continuing success of the Burnside War Memorial Hospital. Many people in the community share its vision, and support it in a very practical way by donating to the Foundation – you can make a gift online, here, on the secure donations site GiveNow.com.au – or by attending special events, or purchasing fundraising merchandise.
Bequests to the Burnside Hospital Foundation can also provide a significant form of support.
25 February 2016 / 195 KB / pdf
Click here to download information on how bequests help our hospital.